So you want to get virtual power plant ready. You want blackout protection through your solar battery and independence from the electricity grid, while also enjoying premium solar feed-in rates and make money selling excess battery to the grid via Discover Energy's trading platform. Here's the 4 things you'll need to join the Discover Energy VPP: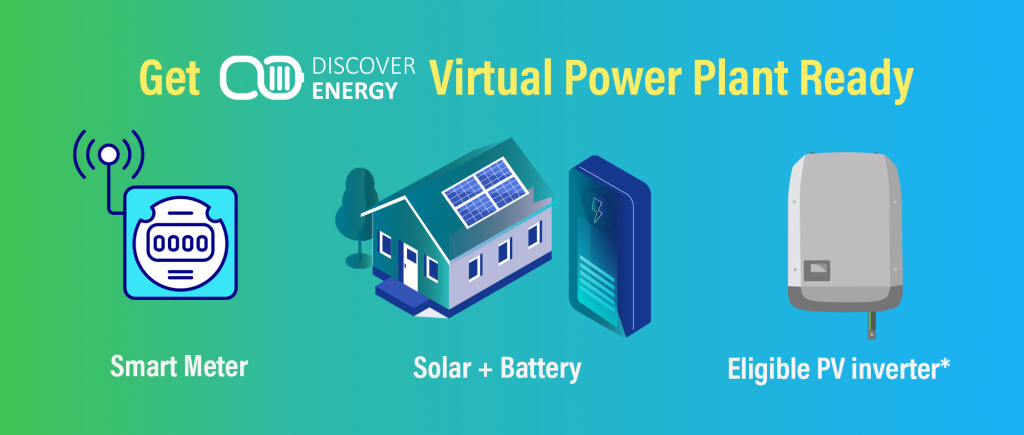 A Smart Meter
Discover Energy's VPP is a cloud-based service that's entirely digital.  Rapid communication between your battery, our platform and the electricity network is key. Currently Discover Energy makes transactions between batteries in our VPP network and the electricity grid in 30min intervals. It's therefore essential that your site meter is a smart meter. It can take up to a month to install and make a full switch to a smart meter, so don't delay in requesting a switch from your energy retailer if you haven't yet upgraded.

Solar and Battery
Unlike many VPPs in the Aussie market, Discover Energy VPP is a BYO battery and solar program. This means there are an extensive range of batteries and pv that are compatible to the Discover Energy VPP. We do have a couple of further eligibility rules for battery, so please refer to the VPP compatibility list for full details.

An Eligible PV inverter
The most important piece of hardware that determines if your households is eligible to join Discover Energy's VPP your PV inverter, specifically the brand/manufacturer and model of your inverter. Think of your PV inverter as the brain of your solar and battery system. It communicates with your PV and battery to find out how much battery you have, how much solar you are generating and your consumption patterns. The Discover Energy VPP works by connecting your PV inverter to the electricity grid and by using AI software and proprietary algorithms to determine the optimum opportunity for your battery to discharge electricity back to grid, and earn money. We've currently integrated our software with 5 of the biggest inverter brands in the market: Alpha-ESS, Sungrow, Solar Edge, Goodwe and Huawei. If you have a PV inverter from one of these brands, you are likely to be eligible to join the Discover Energy VPP*.
Compatible Systems:

*Exceptions apply. Please refer to the Discover Energy VPP Product Compatibility List for a full list of compatible products. 

Interested in the Discover Energy VPP and joining 93.7% of VPP customers who pay $0 for electricity and earn credits every month?

Visit https://www.discoverenergy.com.au/vpp or call 1300 946 898

Solar installers interested in partnering with Discover Energy? Visit https://www.discoverenergy.com.au/vpp_channel